Both my sweet babies have found their forever homes. Congratulations to their new families. I am wishing ZaZu and Chester (as they are now known) the best in life.
If anyone on here thinks they may be interested in a baby from a future clutch please just let me know. I only breed my birds a very few times a year and they receive the very best of care.

One of the babies is sold- congratulations to the new family! Just one sweet baby left and I have a feeling he will also be sold soon.
Here's a picture of them taken just last night. I went to visit them and they sure are sweet. I was amazed at how calm they remain despite the commotion in my friend's house. Also, I could have swore they were making little sounds like they are trying to learn to talk already! They were hatched on 5/13/08 & 5/14/08. [img]
[/img]
Hi everyone-
My baby greys (TAGs) are now ready for their forever home. They have been fully weaned, have all their feathers and are sweet and ready to go. These are my Lyric's brothers/sisters. I did not personally hand feed them, but my good friend and stay at home mom did it for me. These babies are used to other birds, children and dogs. Please serious inquiries only. Located south of KC in Missouri. Please pm me if you would like more information.
Here is an older picture of them, taken a few weeks ago.
[img]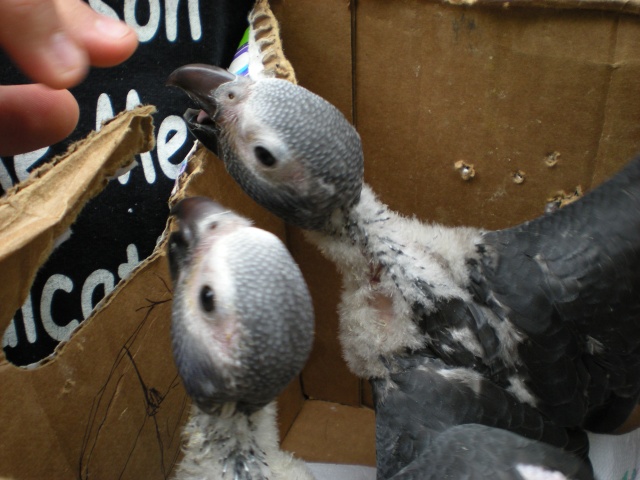 [/img]
I would prefer to find them an experienced bird loving home because I hope they will be your forever friend. Thanks!

---
Permissions in this forum:
You
cannot
reply to topics in this forum